If you call yourself a "Grinch", then you hate Christmas and don't want to know anything about it, which means you probably need to try a special drink served in an specific Tijuana coffee shop.
The coffee shop María Divina was given the task of creating a drink inspired by the "Grinch", a character who does not tolerate Christmas, as you may remember.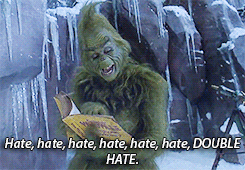 With a hot GREEN drink with white chocolate as main ingredient called "The Grinch," is how they intend to heal the hearts of their customers, and thus, probably make them like Christmas again.
From December first, the drink will be available in the coffee menu as part of the seasonal drinks of the house.
P.S.
Of course you can drink this even if you don't hate Christmas! Who doesn't like a warm cup of chocolate?
Follow San Diego Red on Facebook and Twitter.
Translated by:cristina.mora@sandiegored.com